It was early afternoon when I approached the summit of Mount Beacon. The soaring fire tower was in sight, but something felt different than the last time I was here. There was a constant buzz in the air but I couldn't pinpoint its direction; just that it was coming from above. All I could do was wonder - since when are there bees here? Foot over foot I climbed the steel tower, ascending its 157 steps closer and closer to that money shot of a view while readying myself to be confronted by a merciless swarm. I had arrived, and it was gorgeous. A clear line of sight both up and down the Hudson Valley. I looked out into the distance and that was when I realized; it wasn't a swarm of bees I was hearing, but a pair of drones. DJI Phantom drones to be precise, slowly circling the summit, again, and again…..and again……and again.
The constant hum of their propellers annoyed me, but truth be told I was envious of their owners. I would love to film footage from a Phantom, but this encounter made me think, is this the new norm? Sure, I'm not exactly off the grid, but can I no longer just assume to be alone on the trail with nature's silence (aka my headphones) to comfort me? Here I am upstate on my day off looking to get away from the music blasting straphangers of NYC and I find myself alongside their country equivalent - the photo enthusiast with the noisy drone.
The convergence of tech and the outdoors is nothing new. From the advent of flashlights and locator beacons to designing lightweight gear, there has been a constant push for innovation. With an array of tools at our fingertips to venture out with, we now have a choice - do we take them with us, or leave them at home?
To answer this question I sat down with Anthony Biolatto who sits at the crossroads of gear, gadgets, and all things outdoors. Anthony is the Director of Guiding and eCommerce at Sports Basement in San Francisco, California. He has been guiding professionally for seven plus years, is an AMGA Rock Guide, and is certified in a handful of disciplines including Wilderness First Response.
Anthony, what's your take on bringing smartphones and other gadgets into the backcountry?
I'm an advocate for it, but in moderation. I think smartphones are incredible tools. It's important for people to understand that when you're out on the trail you may not have cellphone service, but that doesn't mean you can't make a 911 call using emergency cell towers. With any gadget or tool I think you really have to ask yourself - Is this adding to the reason why I'm here, or is it taking away from it? You see people these days bringing their phones on trips, flipping on Instagram and posting pictures of themselves while vacationing. I don't think there's anything wrong with that, but I do think it removes them from the experience of being outdoors and enjoying the moment. There's a line between sharing and bragging. You see this happen a lot on guided trips and it's important to make sure that safety is always the priority versus getting that Instagram shot.
*Photo Credit to Matt Williams & D Scott Clark
What's your take on drones?
I think they're really cool pieces of technology, but I'm not the kind of person that would use it to film myself mountain biking, or climbing. Funny though, with our guided trips we have yet to have a client pull one out of their bag, but with these newer iterations of self-flying and auto follow drones, we probably should start including a disclaimer in our docs asking our clients to leave them at home.
Is there any gear out there right now that excites you?
I really like what Black Diamond has done with its Avalanche (Avy) Bags. Now here is a great example of incredible design and tech being leveraged in the outdoors. Avy bags help a person avoid being buried in an avalanche by inflating an airbag keeping them towards the surface an avalanche. They've been around for a while, but until recently they were really only good for a one time use. For the most part they were powered by pressurized canisters that would inflate the airbag. The canisters were bulky and heavy. Black Diamond took a new approach in its design throwing away the canisters and developed a JetForce Technology system with a high power battery operated fan that is also rechargeable. Now you have a bag that could be repacked and used more than once on a multi day outing. The airbag inflates within 4 seconds, and automatically deflates 3 minutes later to help create an air pocket should the user be trapped under the snow. They really upped the game iterating on a great life saving product to make it even greater.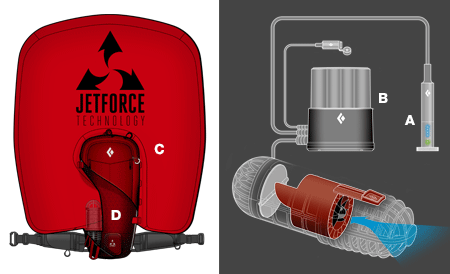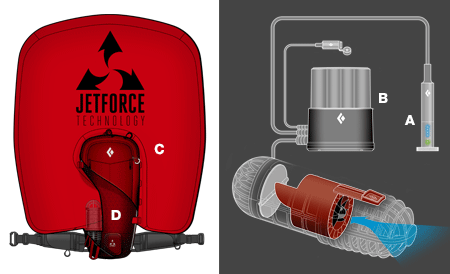 Aside from that, I love what 3d printing has done for the outdoor industry. Take mountain biking as an example. Before 3d printing, a company would have to build a model, send out the specs to a manufacturer maybe in China to be tooled, then a few weeks later put that model together to build their prototype. Now with 3d printing, the engineering team can put together a prototype in a single day all in-house. What would take weeks is now just a matter of hours leading to faster innovation, and more flexibility in the creative process. Forget about assembly, now you have whole functioning products being printed ready to ride.
What about crowdfunding? Have you had any experiences there?
Yea - just this morning in fact I was checking out this really interesting anti-theft tool for bikes called Hexlox, a new take on anti-theft bolts for your bicycle. I really love the idea of simplicity in design to solve problems. Hexlox built these magnets that you can insert into the bolts of your bicycle - be it your saddle, handlebars, wheels, and just about any other part of your bike to protect it from being stolen. Crowdfunding is a pretty interesting space. It's helping to support creative design, and allowing people to pursue projects that maybe they couldn't have without it.
The combining of technology, design, and the outdoors is a super interesting topic, and I've come away with three takeaways from my sit-down with Anthony that I'm looking forward to exploring more. First, taking a moment to ask yourself the question - Is this adding to the reason why I'm here, or is it taking away from it? Second, 3d printing is changing the creative process leading to faster innovation, and more flexibility in design and production. Last but not least and the culmination of what we love most - simplicity in design to solve big problems.
Big thanks to Anthony for taking the time to sit down and talk. Check out what's for sale over at Sports Basement, and jump on one of his many upcoming trips…...just don't bring your drone.