Lately we've been been playing around with the topic of technology and the outdoors, and that with an array of tools at our fingertips to venture out with, we have a choice - do we take them with us, or leave them at home? If the tech in question is Joseph Stein's Firefly Communicator, a device which promises to do what its name claims in addition to keep its user young at heart, the answer should be obvious.
Joseph Stein grew up in a small town in the southern California mountains. His parents, both educators, were very much naturalists. Growing up, he would spend days with his family outdoors learning about things such as the life cycles of ant colonies, which plants are edible, and I imagine how to tie some pretty awesome knots too. Every generation passes something down to the next, and for Joey, it was the knowledge of natural world.
Through college he took a bit of a different approach venturing away from environmental science studying a combination of astronomy, history, music, and technology - all subjects that would eventually shape the design of the Firefly Communicator. He found his way to NYC for graduate school enrolling at NYU ITP, (Interactive Telecommunications Program) tinkering with circuit boards and microcontrollers before landing a gig creating interactive exhibits at the American Museum of Natural History. He was a long way away from the Old-growth forests of California, but if you were to have drawn out this path, it almost seems natural that the Firefly Communicator was conceived.
By nature Joey is an educator. When I reached out to him to write this article, he quickly said yes and invited me into his home. Within minutes of sitting I could sense his enthusiasm and passion for nature and science.
'I don't know why I love teaching,' Joey says, 'I've always done it but I'm not formally trained. I studied astronomy in college, and when I came out of it, I went and taught in a planetarium for a while. That's how I backed into it. I love Laurie Anderson, the tech, and the inspiration that comes from it.'
The vision of the Firefly Communicator first came to fruition more than 10 years ago, but from its conceptual design to where it is today, it's come a long way.
'Whenever you get into anything the world just cracks open and you find out all the complexities around it.' says Joey, 'I was imagining a very simple circuit at the very beginning, almost like a 555 timer where you basically just adjust the pause in between some flashes and then I started to think, well - how do you actually know what species you're mimicking? There are thousands of species of fireflies each with their own pattern. I started to realize how complex it was, and my designs started to change.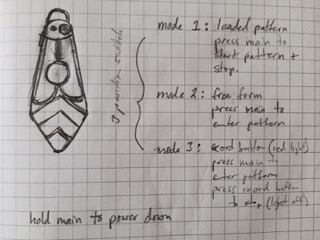 As functionality changed, the physical design changed too. The device went from having five buttons to two and a phone app was built to integrate with the Firefly Communicator via its light sensor, giving it a lifetime of expandability and educational resources.
Throughout the design process, Joey kept his daughter in mind, 'It's super unfair that so much outdoor gear and toys are designed for boys...so that's why I decided on an amulet, boys and girls can wear it. It can be attractive for both.'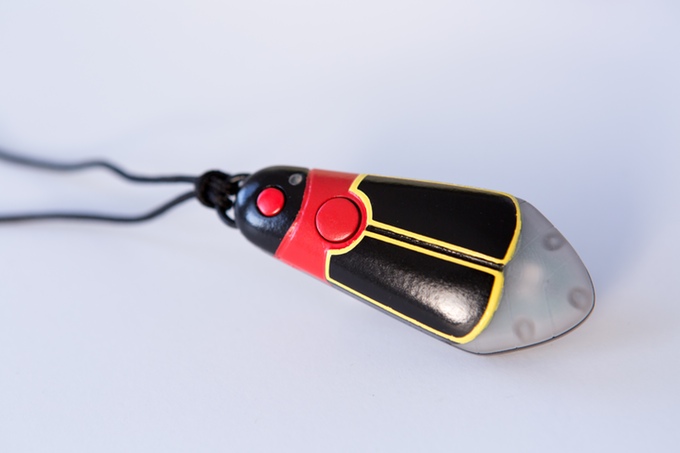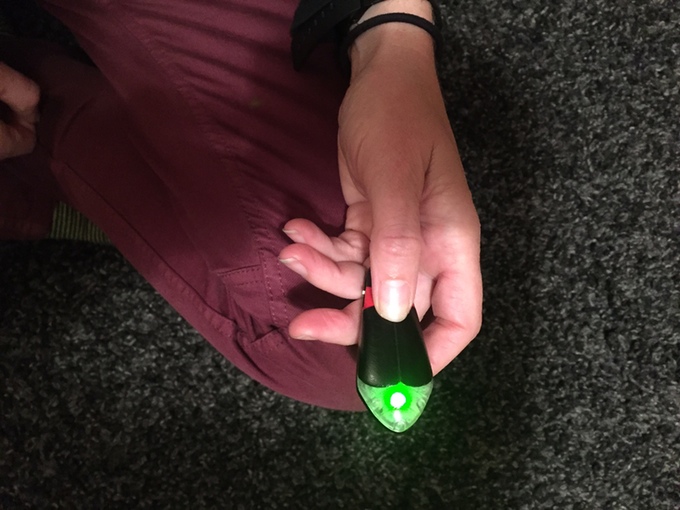 Digging deeper into the engineering behind the Firefly Communicator, I thought of Little Bits. You couldn't say it was meant for any particular age group. The Firefly Communicator may look like a toy, but it's an educational tool for people of all ages - kids, teens, and adults.
But patience is a must. 'To understand how to make it work and make it work for you, you have to be willing to sit still for a bit.' said Joey.
'There's that moment of inspiration when a firefly comes to you. It's magical; it's emotional. You feel special and there's a connection. That's what I want people to experience. That's what I want people to share...the dream is to reach kids who may never have been out of the city, and to inspire them. There are fireflies right here.'
I imagine myself being able to pick one up at REI in the near future and wander around the city parks calling to fireflies.
When a working prototype was ready, Joey took a trip down to Panama to visit firefly expert Fred Vencl, a professor of Ecology and Evolution at Stony Brook University, and the Smithsonian Tropical Research Institute in Panama. Collaborating with Vencl for the project, Joey brought his journal filled with charts detailing firefly species and their flash codes which he was happy to show me.
'You look at the flash codes and charts and you start to get the feeling like these guys have it all figured out and then we get there, we're outside with hundreds of fireflies overhead and Fred turns to me and say's he has no idea what these patterns are. I'm a trained musician, and that helps, but it wasn't working. That was when it came to me that I needed to have customizable solution to create your own patterns because not every species light pattern is known. This is the fun part: the chance for the user to further science.'
Joey's sincerity for his project shines through. He's created a super interesting product to inspire a generation of users to get outdoors, and help combat Nature Deficit Disorder.
For those late Spring and Summer camping trips, alone or with the family, the Firefly Communicator is a tool you should throw on into your pack and take with you. With it, the potential for discovery and the opportunity to contribute to science is at your fingertips. Check out the Kickstarter campaign to learn more.