If The Walking Dead has taught us anything, it's that you should always aim for the head, and it's best to be prepared. The apocalypse is coming, whether zombie, climate-change, Republican or Democrat - it's really just a question of when. So what can you do now to improve your chances for survival? Well, aside from your classic zombie tools, firearms, and baseball bats, we've picked two incredible pieces of hardware that may extend your lifespan if you're off-the-grid. At the very least, they'll make your phone work better.
Solar Paper is a lightweight, magnetic solar panel capable of charging just about any handheld device via two USB ports. Its paper thin size, measuring just 9 x 9 x 1.1 cm when folded allows you to hide it away in your notebook as you journal your fight to survive. Need to charge a flashlight? No problem. Smart phone or tablet? Sure thing. Camera? Plug away. Want to run your house electric on Solar Paper? Well, if you live in a tiny house, you may very well be able to do that by upping the wattage output and connecting additional Solar Paper units via the magnetic expansion feature. You can also choose between 2.5W, 5W, 7.5W, 10W and 15W versions, but we'll leave those calculations to you. Solar Paper is functional, sleek, and beautifully designed. We highly recommend you check it out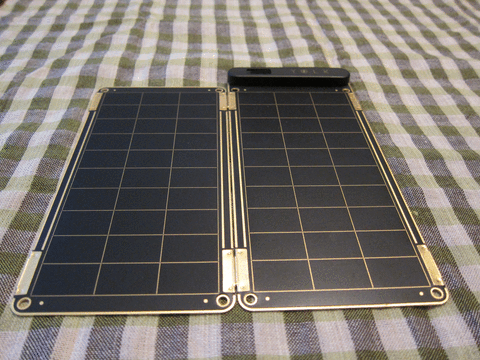 YOLK, the creators of Solar Paper are on a mission to bring solar technology into everyone's daily life. They've successfully crowdfunded and shipped two hardware campaigns on Kickstarter, raising over $1 million in backer contributions.
goTenna creates an off-grid network to share SMS and location data in areas with no cellphone service. Pair goTenna to your smartphone via Bluetooth and download the app (prior to the apocalyptic scenario of your choosing). Once you're set up, goTenna can use long-range radio waves (151-154 MHz) to send SMS and your location to others in the area with a goTenna. They are sold in pairs for this very reason. Range is dependent on terrain but expect anywhere between 1 and 4 miles. Each goTenna is approximately 147.3 mm x 25.4 mm x 12.7 mm weighing just 52g and easily attachable to your backpack.
We tested goTenna on a hike in the Hudson Valley by shutting-off cellular data, getting lost, texting and sharing locations. It worked! Magic.
goTenna was launched on the realization that our communications infrastructure tends to fail when we'd really like it to work. Whether it's cell phone towers being taxed at a crowded event, or a natural disaster unexpectedly taking out the grid, goTenna believes that decentralized communication is, at the very least, an integral part of our future. They recently locked up $7.5 million in Series A funding, and an exclusive retail partnership with REI.
With Solar Paper and goTenna in hand, when the clock strikes midnight rest assured you'll at least have power and communication. Until the sun explodes.

Good Journey